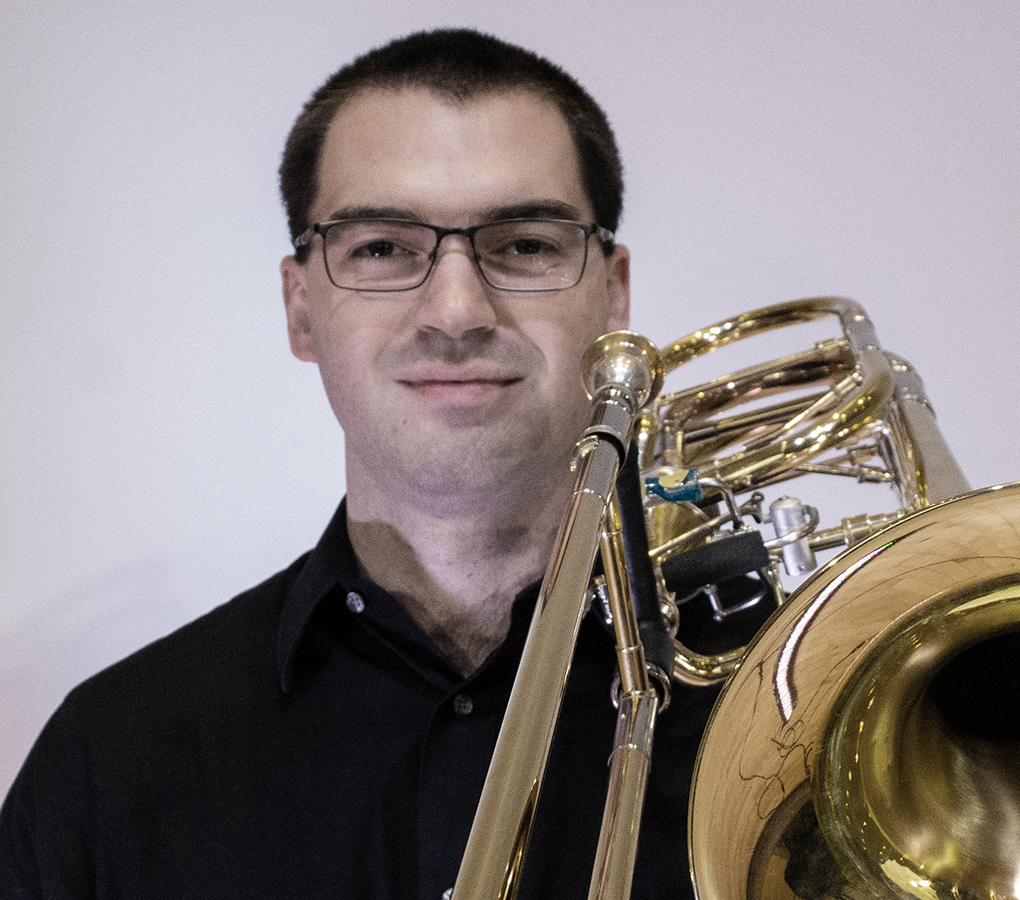 Evan Clifton bass trombone - Trombone
Evan Clifton is an accomplished bass trombonist, reputable educator, and multifaceted musician based in Nashville, Tennessee. He is an active educator in local schools and has performed in a variety of settings on many instruments, including recording sessions and symphony orchestras on tenor, bass, and contrabass trombones, euphonium, and tuba. He is also the Trombone Specialist for Edwards House Southeast, the regional branch of Edwards Instrument Company. Born and raised in Michigan, he has become a highly sought after bass trombonist throughout the Midwest, performing with The Cleveland Orchestra, Grand Rapids Symphony, and Kalamazoo Symphony. Additionally, he is a tenured member of the West Michigan Symphony and a former member of the Lansing and Battle Creek Symphonies. Clifton has performed and recorded with bands such as The Who and Evanescence and can be heard on video game soundtracks for Sony, Bungie, and EA Games, among others.
Over the years, Clifton has become increasingly committed to new music, commissioning and performing pieces from living composers, including, but not limited to, Christopher Evan Hass, Tyler S. Grant, and Nicole Piunno. Most recently, Clifton was a consortium member for the commissioning of "Songs of the Forest" for Solo Bass Trombone and Trombone Choir by Frank Gulino and "Typhon Rising" for Contrabass Trombone and Recording by Benjamin McMillan both of which were premiered in early 2020. He has made solo appearances with the Ball State University Wind Ensemble, Western Michigan University Symphony Orchestra, and Michigan State University Wind Symphony. Clifton has been named a finalist in many competitions,including those sponsored by the Eastern Trombone Workshop (now American Trombone Workshop), and the International Trombone Festival. Clifton is also a regular guest artist at institutions and has given performances and masterclasses at Murray State University, Ohio University, and Vanderbilt University, among others.
A devoted music educator, Clifton currently teaches at several schools across Middle Tennessee at middle and high schools for Rutherford County Schools and Metro Nashville Public Schools. He has also held a faculty position at Western Michigan University's summer music program called SEMINAR, where he coached high school students in their chamber music ensembles and taught group trombone lessons. His teaching is focused on helping students play their instruments in the most healthy and efficient ways, based on his own experience with physical fitness, meditation and the techniques he learned while recovering from Task Specific Focal Dystonia. Several of his high school students have gone on to study music at major universities, such as Central Michigan University and Middle Tennessee State University.
Clifton completed a Bachelor of Music degree at Western Michigan University and a Master of Music degree at Michigan State University as a University Distinguished Fellow. His teachers have included Randy Hawes, Jan Kagarice, Ava Ordman, and Dr. Steve Wolfinbarger.
Clifton is a performing artist and clinician for Edwards Instrument Company and Denis Wick,performing exclusively on Edwards trombones and Denis Wick mouthpieces and mutes.