Now is the Time to Subscribe
Subscribe for beautiful MUSIC, plus exclusive BENEFITS.
THE BEST SEATS are reserved for you all season long.
SAVE UP TO 20% off single ticket prices—it's like getting one concert FREE!
FLEXIBLE TICKET EXCHANGE when your schedule changes.
10% DISCOUNT FOR WMS FRAUENTHAL CONCERTS: purchase additional tickets for yourself, family and friends!
VIP ACCESS to events, information and service.
WMS SATISFACTION GUARANTEE: if not completely satisfied simply call Patron Services to resolve
CYO: Create Your Own Series
It's Your Music. Your Way.
Compose a series that is uniquely yours. With the Create Your Own (CYO) series, you decide which 4 or 6 concerts fit your musical tastes and schedule.
• Enjoy ultimate flexibility. Choose from any Pops, Masterworks, or The Block concerts found in this brochure.
• Save up to 20% OFF single ticket prices.
• Easy and flexible exchanges should your schedule change.
• Receive best available seating for each selected performance.
• Free virtual bonus concert.
Note: your seats will be different for each performance.
STEP 1: CHOOSE YOUR CONCERTS
Browse through our upcoming events, find 4 or 6 of your favorite concerts.
STEP 2: CHOOSE YOUR SEATS
Select your desired price level.
STEP 3: PLACE YOUR ORDER
Subscribe online here or call Maris at 231.726.3231.
P.S. Subscribe by September 18 for free virtual bonus concert: Holst's The Planets
Instructions to access and enjoy your free virtual bonus concert featuring Holst's The Planets will be emailed to you after your order has been received.
Premier, Masterworks, Super Pops and Pops Series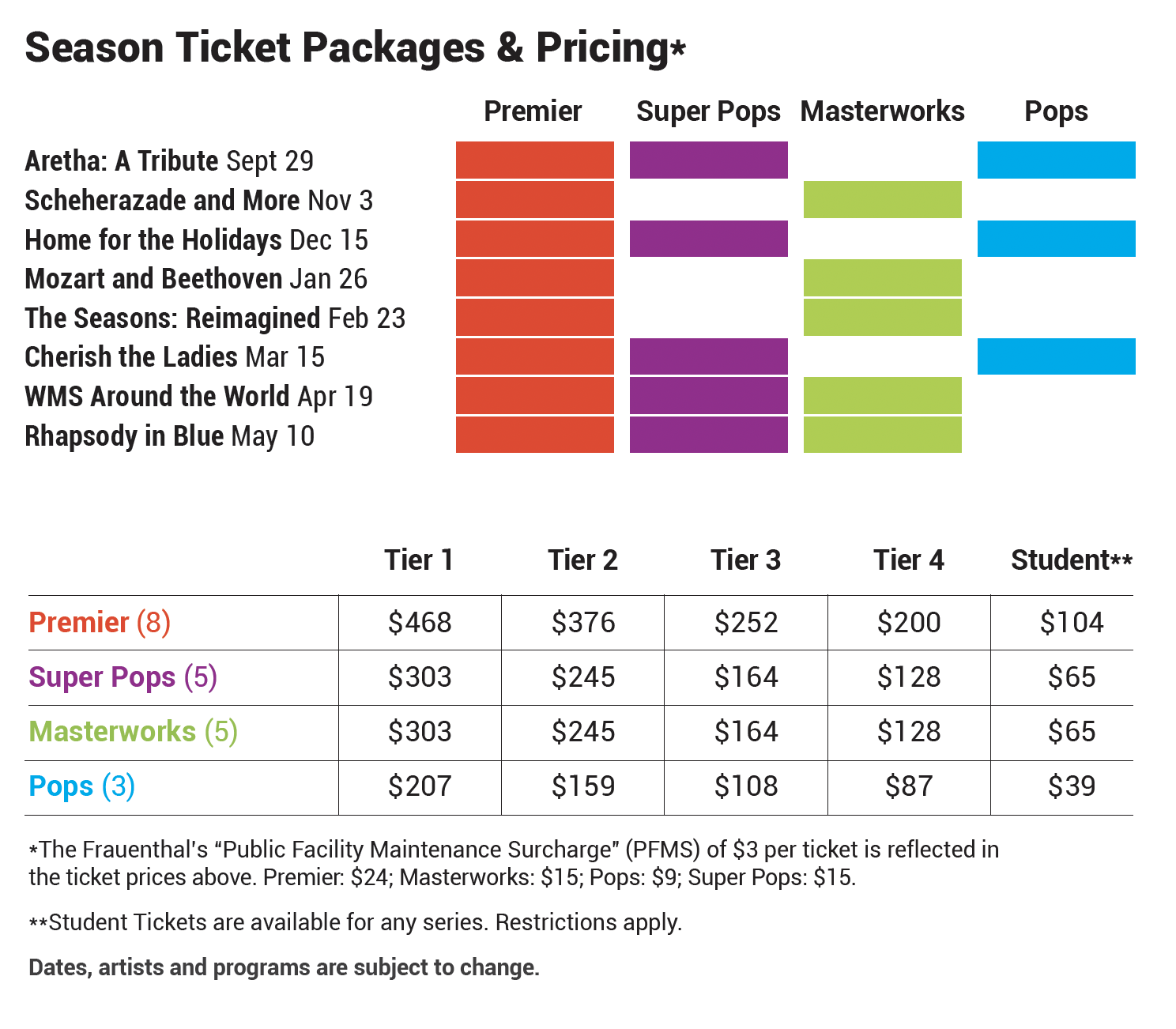 3 Ways to Purchase
In Person: Visit WMS Patron Services
Monday - Thursday 9:30 am - 4:30 pm
Friday - Closed
360 W. Western Ave, 2nd Floor.
By Phone: Call Patron Services Manager, Maris Myers at 231.726.3231
Monday - Thursday 9:30 am - 4:30 pm
Friday - Closed
Online: Follow links below