Mozart and Haydn
A satisfying classical sandwich of Mozart and Haydn, filled with more recent, expressive works in between.
Mozart: Symphony no.35, "Haffner"
Marcus Norris: Glory
Berlioz: Reverie et Caprice
Haydn: Symphony no.94, "Surprise"
Scott Speck conductor
Njioma Grevious violin
S

eason

tickets on sale now!


Subscribers save up to 20% over single ticket prices
This concert is part of the following packages: Premier, Masterworks
Individual tickets go on sale Summer 2022
Njioma Grevious
A versatile chamber and orchestral musician, violinist Njioma Grevious, 22, of Washington, DC and New York City, completed her undergraduate studies at The Juilliard School and was awarded the John Erskine Prize for scholastic and artistic achievement. She was a student of Ronald Copes and a recipient of the Jerome L. Greene Scholarship. In 2018 she won First Prizes for Performance and Interpretation in the Prix Ravel chamber music competition in France. In 2019 she won a Music Academy of the West Keston-Max Fellowship to study and perform with the London Symphony Orchestra in 2022.
Njioma has appeared as a soloist with the Chicago Philharmonic, and for several years she has been a fellow of the Montclair Orchestra.
Along with her colleagues in the Abeo Quartet, Njioma won the 2019 Silver Medal in the Fischoff International Chamber Music Competition and the Judges Special Recognition Award at the Plowman Chamber Music Competition. Abeo has been featured at The Kennedy Center, Alice Tully Hall, in Montreal and in Oslo. They have appeared on WQXR Midday Masterpieces as well as on WETA Classical Radio during the premier of "Moonshot" by Alistair Coleman. The quartet studied under the tutelage of the Juilliard String Quartet and has been coached by members of the Alban Berg, Quatuor Ebene, Takács, Artemis, Brentano, Miró and Emerson quartets.
Njioma has performed in numerous chamber music series, including Sound Off: Music for Bail concerts, as well as in other projects including the recording of Naomi Raine's "Find My Peace."
She has been invited to participate in Yale's Norfolk Chamber Music Festival, Music Academy of the West, Montreal International String Quartet Academy, Meadowmount, Fontainebleau Schools, Boston University Tanglewood Institute and the inaugural Virtuosi Virtual Summer Academy. She has performed in masterclasses with members of the Berlin Philharmonic and the Boston Symphony Orchestra as well as with Glenn Dicterow, Gérard Poulet, Astrid Schween and Sheryl Staples. She has been featured in master classes with the Danish Quartet as well as the Calidore String Quartet, with whom she is currently studying in the inaugural graduate string quartet-in-residence program at the University of Delaware.
Before attending Juilliard, Njioma toured in Germany, Spain, Argentina, the Czech Republic and The Netherlands and performed in Carnegie Hall and Boston's Symphony Hall as a member for five years of the Boston Philharmonic Youth Orchestra conducted by Benjamin Zander. Grateful to have been a scholarship recipient for many years through Winsor Music and Boston's Project STEP string training program for black and Latinx youth, Njioma studied during that time primarily with Farhoud Moshfegh, Marianna Green-Hill and James Buswell. Among her many treasured memories was the opportunity to perform in a quartet during a White House State Dinner hosted by President and Mrs. Obama.
Njioma, who began playing the violin at age 4, has since performed in numerous volunteer concerts with her siblings and many others  As a Juilliard Gluck Fellow she performed regularly for the medically vulnerable, retirees and children. Additionally, she loves teaching composition and collaboration to NYC elementary and middle school students from underserved communities through the Opportunity Music Project.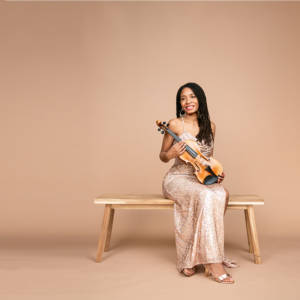 About
A satisfying classical sandwich of Mozart and Haydn, filled with more recent, expressive works in between.
Mozart: Symphony no.35, "Haffner"
Marcus Norris: Glory
Berlioz: Reverie et Caprice
Haydn: Symphony no.94, "Surprise"
Scott Speck conductor
Njioma Grevious violin
S

eason

tickets on sale now!


Subscribers save up to 20% over single ticket prices
This concert is part of the following packages: Premier, Masterworks
Individual tickets go on sale Summer 2022