Students on the Steinway: Lydia Seaver
First in a new series of free concerts featuring award-winning student pianists from West Michigan,
This virtual performance at The Block immediately follows Lunch 'n Learn,
Tune in at the Listening Room 1 pm Wednesday, June 15, 2020,
Program
Beethoven: Sonata No. 3 in C major, Op. 2 No. 3, mvmt. 1
Bach: Prelude and Fugue No. 12 in F minor, BWV 881
Chopin: Nocturne in F minor, Op. 55 No. 1
Ravel: Toccata from "Le Tombeau De Couperin"
Chopin: Waltz in C-sharp minor, Op. 64 No. 2
Schumann: Papillons, Op. 2
Lydia Seaver of Montague was the winner of the 2020 Grand Rapids Youth Symphony Piano Concerto Competition and the 2019 St. Cecilia Philharmonic Piano Concerto Competition. The homeschooled high school graduate is a student of Dr. Sookkyung Cho and enters the music program at Grand Valley State University this fall. She has been a two-time state finalist at the Michigan Music Teachers' Association Student Achievement Testing. She won first place in the intermediate division of the 2018 Annual Awards Competition through the Piano Teachers' Forum of Grand Rapids, as well as first place for a solo performance at the 2019 West Michigan Student Showcase.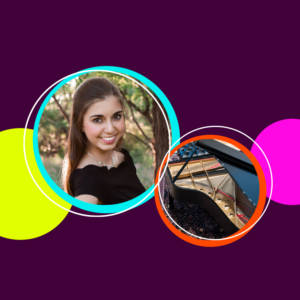 Students on the Steinway: Lydia Seaver
About
First in a new series of free concerts featuring award-winning student pianists from West Michigan,
This virtual performance at The Block immediately follows Lunch 'n Learn,
Tune in at the Listening Room 1 pm Wednesday, June 15, 2020,
Program
Beethoven: Sonata No. 3 in C major, Op. 2 No. 3, mvmt. 1
Bach: Prelude and Fugue No. 12 in F minor, BWV 881
Chopin: Nocturne in F minor, Op. 55 No. 1
Ravel: Toccata from "Le Tombeau De Couperin"
Chopin: Waltz in C-sharp minor, Op. 64 No. 2
Schumann: Papillons, Op. 2