Virtual Nothin' but the Blues
VIRTUAL EVENT
Scott Speck conductor
Shayna Steele vocalist
Singing sensation Shayna Steele joins WMS in this musical tribute to the legends who sang their way into history: including Bessie Smith, Billie Holiday, Ma Rainey, Louis Armstrong, and more!
SHAYNA STEELE
One of the greatest singing sensations of our time, known from recordings with Snarky Puppy and Moby and a host of other stars, Shayna Steele takes flight on her third album, "Watch Me Fly". Offering six self-penned originals and four select classics ranging from Soul via Blues and Gospel and easily crossing over to retro R&B and Jazz, showcasing Shayna Steele's supremely soulful energy, as well as her mind blowing vocal artistry and songwriting skills.
"I am outrageous, larger than life" are the first words on Shayna Steele's new album. The few notes she sings to voice them in the aptly named song "Be" already make it clear that this is not braggadocio, but a fact. The singer, born in California and raised in Mississippi, who as a self-proclaimed "American Air Force brat" grew up all over the world, but lives and thrives in New York, not only has a charismatic, charming and truly unique voice, but also plenty of technique and the vocal strength of a volcano. Shayna has performed with the likes of Rihanna, Kelly Clarkson, Bette Midler and Steely Dan as a sought after background vocalist. Shayna made the decision that being in the background was not an option anymore and has been touring regularly as a featured vocalist with Grammy Award winning trumpeter, Chris Botti, was a featured vocalist on Snarky Puppy's "Family Dinner" and reached #1 on the Dance Billboard charts as a featured vocalist on Moby's "Disco Lies."
Saying Shayna is ready to step out on her own would be a major understatement. "Watch me Fly", produced by David Cook, Shayna's co-writer/partner/producer/MD was recorded as a concerted effort with her tried and trusted band at Dreamland Studios, a converted church near Woodstock, in September 2018. The ten songs range from dynamite, Gospel drenched Soul and "R&B" as in "Be", "Shadow" or the title track, via the supersensual hymn "Treat me Good" or the uplifting and upbeat Gospel emotion of "Wash me Over" on to a sensationally emotional version of the Blues ballad "Life Goes On" by Big Mama Thornton or jazzy/funky readings of Michael Jackson's "Baby Be Mine", one of two "non-single" tracks from "Thriller", and "Secret Love", once a hit for Doris Day. The final song and the icing on this musical cake is "Home", as beautiful and emotional as it is autobiographic. "I grew up all over the world", Shayna explains in her liner notes. "It was hard to call any place home for most of my life... but it was my time in Biloxi that really shaped me into the person I am. I struggled with the lack of access to different cultures, but I found the silver lining through music and performance. I was a bit of an outcast, coming from a bi-racial family, living in Mississippi, where the races pretty much segregated themselves... I didn't belong. But when I go home to visit, the community is so welcoming and proud of my accomplishments. I get that 'Mississippi hospitality' and I wanted to write them an anthem… to let them know how important they were to me."
Schooled in Jazz by her Godfather, self-taught and guided by her musician father and educated in Gospel by her choir director, the Grammy-nominated Michael McElroy, Shayna Steele dove headfirst into music in her teens, entering (and winning) several pageants and talent shows, including an appearance on Ed McMahon's Star Search at the tender age of 15 (she came in 2nd by a 1/2 star). "I never really felt 'grounded' until I moved to NYC", she says. "It was then that I really opened up to different genres of music." Shayna began to develop her sound, blending new influences, from Ledisi to Rachelle Farrell, with her childhood icons Stevie Wonder, Aretha Franklin, Chaka Khan and the Temptations.
Having released an EP and two full length albums by now, she continues to tour extensively with her band, as well as appearing as a special guest vocalist with jazz big bands throughout Europe and the U.S. In 2017, Shayna took on another title of "symphony soloist" performing with Symphony Pops Orchestras throughout North America such as the Dallas Symphony, Detroit Symphony and the Long Beach Symphony to name a few. "Watch me Fly" in all its soulful diversity is as much a showcase for Shayna's overwhelming musical powers, as it is a statement. "I hope you'll listen to it in its entirety like we all did as kids", she says. "I remember those times I memorized an album, track for track like "Purple Rain", "Thriller" and Whitney Houston's debut album. Everybody is so hung up on singles and hits and I'm hung up on the musical journey to really know what an artist is going through during the making of an album. I hope you will go on this journey with me."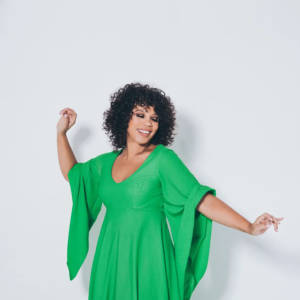 Virtual Nothin' but the Blues
$25
About
VIRTUAL EVENT
Scott Speck conductor
Shayna Steele vocalist
Singing sensation Shayna Steele joins WMS in this musical tribute to the legends who sang their way into history: including Bessie Smith, Billie Holiday, Ma Rainey, Louis Armstrong, and more!