IT TAKE JUST ONE NOTE TO START A SYMPHONY
With a planned gift to West Michigan Symphony, you can continue to support the Orchestra even after your passing. Planned giving is simply creating a plan to make a gift. You don't need to be wealthy to make an impact—you just need to make a plan.
The easiest way to make a planned gift is through a charitable bequest, where you designate in your will or trust the assets that you wish to gift to WMS upon your death. A bequest is not all or nothing; you can leave either a percentage of your total estate value, a specific asset (such as part of an investment portfolio), a specified amount of money, or the remaining assets in your estate after all your other requests have been satisfied. You can also make a planned gift by designating the WMS as a beneficiary of your retirement or IRA account, or your life insurance.
You can also specify how you would like your gift used by designating it toward music education, the Endowment, or "wherever it is needed."
Even a single note, when combined with others, can become a symphony. Any gift you wish to make, now or in the future, can grow into something more impactful over time with the right planning. Imagine the impact if every member of this audience designated even 1% of their estate to WMS!
Creating a planned gift is a wonderful way to leave a legacy, provide future funding, and ensure that WMS continues to delight, teach and entertain audiences in the future. Talk with your estate plan attorney about your options.
We welcome your questions. Please reach out to Andy Buelow at 231.726.3231, or visit our website at westmichigansymphony.org. We would be happy to provide sample language to include in your estate plan documents, explore your ideas about your plan, or simply connect. And if you do make a planned gift, or have already done so, please consider letting us know so that we can thank you!
Thank You To Our Newest Legacy Giving Circle Members:
Jan & Laura Deur
Pat & Julie Donahue
Bob & Bobbi Sabine
Announcing the Jeffrey Lake Johnson Principal Horn Chair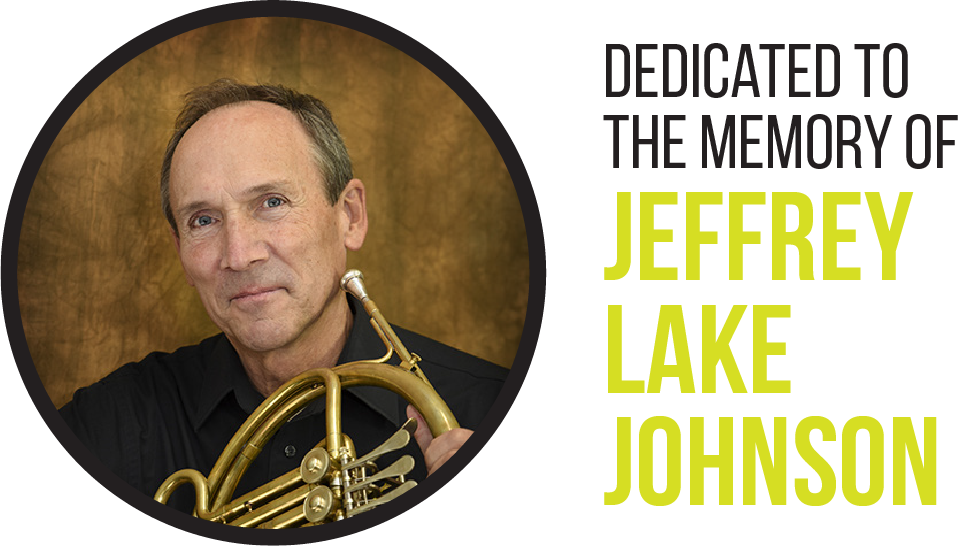 We all encounter people who leave an indelible mark on the lives of those they touch. Jeffrey Lake Johnson (July 23, 1950 - January 18, 2022) was one of those individuals. Jeff was a loving and steadfast brother and uncle, a great friend, a man of strong political persuasions with a keen wit and great sense of humor, a supporter of nature and the arts, a connoisseur of language, and an excellent musician. In character with his quiet and generous ways, he left a meaningful bequest to the West Michigan Symphony, as well as two other local institutions, to support the cultural enrichment of the area.
Born and raised in Muskegon, Jeff grew up surrounded by music and his love for it would become a major thread in the fabric of his life. His choice of the French horn at an early age led to a career that would bring him to every corner of the U.S., as well as parts of Asia. After graduating from Mona Shores High School in 1968, he continued his education at Alma College and then the University of Michigan where he earned a master's degree in music. During the span of his long career, he served for six years as a member of the United States Marine Band and free-lanced with symphonic organizations in Washington D.C. for several years before spending two decades touring with the Broadway shows 42nd Street, Cats, and Les Miserables. In 2007, he landed in Las Vegas, Nevada where he became part of the music community playing in the shows such as The Producers, Spamalot, Showstoppers, The Lion King, Phantom of the Opera, and Wicked. Highlights of his time in the music business included the honor of playing behind superstars Barbra Streisand, Andrea Bocelli, and The Who. Although most of his working life was spent in the broader world, when his schedule allowed, Jeff chose to return again and again to his much-loved home state where he played regularly with the Grand Rapids and Traverse symphonies, as well as right here in Muskegon with the West Michigan Symphony.
Jeff cared deeply for West Michigan — its people, environment, and culture. He believed strongly in the transformative power of music as well as the importance of having access to it right where you live. Of all the many worthy institutions and places he could have chosen for his estate giving, he wanted to make a difference in his hometown — the place that nurtured and developed his interests and character. His gift to the Symphony will endow two chairs — the principal French horn chair in his name and another chair to be announced in the coming months. His generosity will also provide support to the West Michigan Symphony Tune Up program.
Jeff's surviving siblings Jennifer Grow, Tim Johnson, and Amy McEwen, are honored to help see Jeff's gifts come to fruition and they join his friends and former colleagues in gratitude for a life well lived.
Thank you, Jeff, for all you gave us. We will continue to draw inspiration from your quiet generosity and your commitment to making a difference in the lives of others.