Hispania Nights
Scott Speck conductor
Aldo López-Gavilán piano
He took West Michigan by storm during his fall 2017 WMS debut. The Cuban pianist is back for a Latin-infused program framing his own jazz and world-music influenced concerto.
Piazzolla Tangazzo
López-Gavilán Emporium
Marquez Danzon no.4
Praised for his "dazzling technique and rhythmic fire" in the Seattle Times, and dubbed a "formidable virtuoso" by The Times of London, Cuban pianist and composer Aldo López-Gavilán excels in both the classical and jazz worlds as a recitalist, concerto soloist, chamber-music collaborator, and performer of his own electrifying jazz compositions. He has appeared in such prestigious concert halls as the Amadeo Roldán (Cuba), Teresa Careño (Venezuela), Bellas Artes (Mexico), Carnegie Hall and Jordan Hall (U.S.), Royal Festival Hall (U.K.), Nybrokajen 11 (Sweden), The Hall of Music (Russia), and Duc de Lombard et Petit Journal Montparnasse (France), as well as venues in Canada, Santo Domingo, Colombia, Spain, Greece, Hong Kong, Burkina Faso, Germany, and Austria.
In 2014 López-Gavilán toured the U.S., appearing at Florida's Miami Dade County Auditorium, the Kennedy Center in Washington, D.C., and the San Francisco Jazz Festival, and he completed an ASCAP film music workshop under the direction of Robert Kraft at New York University. He also toured extensively in Europe, South America, Canada, and the U.S. with Cuban singer-songwriter Carlos Varela, for whom he wrote all the string arrangements for an award-winning documentary that was broadcast by HBO Latino in the U.S.
A milestone in López-Gavilán's professional and personal life came in early 2015, when he joined the New York-based Harlem Quartet—co-founded by his brother Ilmar, the quartet's first violinist—for concerts in Calgary, Seattle, and Phoenix. That same year he was invited to play with his Jazz Quintet at the Centro Cultural Kirchner in Buenos Aires, Argentina; performed Rhapsody in Blue with the Orquesta Filarmónica de Bogotá, Colombia; and closed the year with a sold-out concert at the Teatro del Museo de Bellas Artes in Havana.
His partnership with Harlem Quartet continues in summer and fall 2016 with a U.S. tour that includes concerts and residency activities at the Rockport Chamber Music Festival, Chautauqua Institution, Santa Fe College, Las Vegas's Smith Center for the Performing Arts, the Chamber Music Society of Detroit, and the Wallis Annenberg Center for the Arts in Beverly Hills. Additional tour concerts by the quintet are in the works for fall 2017 and spring 2018.
During the past decade, López-Gavilán's collaborators have included some of the greatest artists in the classical, popular music, and jazz fields. The late Claudio Abbado, one of the world's most celebrated and respected conductors, invited him to perform with the Simón Bolívar Youth Orchestra of Venezuela in 2006, in a special concert dedicated to the 250th anniversary of Mozart's birth. Maestro Abbado subsequently invited him to perform Prokofiev's Concerto No. 1 in Caracas and Havana. In 2009 López-Gavilán was invited by Carlos Varela to join his band for a tour of Argentina, Chile, and Uruguay; his acoustic arrangements of the music won many accolades from critics and fans. In 2010 he joined the São Paulo Jazz Symphonic Orchestra to perform his music in a concert that was recorded and broadcast on national television in Brazil.
López-Gavilán's Carnegie Hall debut took place in November of 2012, when he was invited to participate in the hall's prestigious "Voces de Latino América" festival. That same month he played a two-piano concert with his colleague Harold López-Nussa in Miami.
Aldo López-Gavilán was born in Cuba to a family of internationally acclaimed classical musicians, his father a conductor and composer, his mother a concert pianist. At the age of two, he had written his first musical composition. By four, his mother introduced the budding prodigy to the piano, and he began formal piano studies at the age of seven. His first international triumph was at the age of eleven when he won a Danny Kaye International Children's Award, organized by UNICEF.  López-Gavilán made his professional debut at age twelve with the Matanzas Symphony Orchestra. He later went on to perform Prokofiev's Third Concerto with the National Symphonic Orchestra of Cuba. Parallel to his classical abilities, López-Gavilán developed remarkable skills in improvisation. He was invited to perform in the world-famous Havana Jazz Festival with the legendary Chucho Valdés, who called him "simply a genius, a star."
His recording career began in 1999 with the CD En el ocaso de la hormiga y el elefante, which won the 2000 Grand Prix at Cubadisco as well as awards in the jazz and first-works categories. In 2005, he was invited to join a group of prestigious Cuban pianists to create an album and documentary in honor of Frank Emilio, Amor y piano. He was also included in a DVD set, Cuban Pianists: The History of Latin Jazz.
López-Gavilán's second album, Talking to the Universe, was a success with audiences and critics alike. In 2006, he gave a concert of his newest works that was later turned into his third album, Soundbites. Two years later he was included in a documentary on the history of Latin jazz in Cuba titled ¡Manteca, Mondongo y Bacalao con Pan!, directed by Pavel Giroud. It was in that same year that he recorded his fourth CD, Dimensional, which afforded him the flexibility for more musical experimentation. He was also hired to compose the music for a TV documentary titled El Proceso: la historia no contada. In 2009 he released his fifth album, Aldo López-Gavilán en vivo, and finished his first live DVD, Más allá del ocaso, which included orchestral selections and jazz compositions. He also composed original music for the film Casa vieja by acclaimed Cuban director Lester Hamlet. In May 2012 he released his sixth album, De todos los colores y también verde.
Since December 2014, when a new era in the relationship between the U.S. and Cuba was announced, a lot has happened in the cultural exchange between the two countries. López-Gavilán has played a very active role in this development. In April 2016, through Obama's President's Committee on the Arts and the Humanities, he was part of the group of Cuban musicians who collaborated in Cuba with such renowned U.S. artists as Joshua Bell, Usher, Dave Matthews, and Smokey Robinson, A few weeks later López-Gavilán's music was used to accompany Chanel's Cruise 2017 Collection—the first fashion show to take place in Havana in recent times—and he partnered with American trumpet virtuoso Byron Stripling in a concert at Havana's Teatro del Museo de Bellas Artes.
Under the lead of renowned Grammy Award-winning violinist Joshua Bell, Aldo aided in the organization of "Seasons of Cuba", a PBS Special that took place at the Lincoln Center on December 2016, celebrating a new era of cultural diplomacy with a vibrant program that spanned from Vivaldi classics to Piazzolla tangos and beyond. Some of the prestigious artists joining Bell and López-Gavilán were: Dave Matthews, the Chamber Orchestra of Havana, singer-songwriter Carlos Varela, and soprano Larisa Martínez.
During 2016 and 2017 Aldo continued headlining sold-out North American performances in various venues all over the United States, both as a solo artist and with the Grammy winner Harlem Quartet. In the prestigious Napa Festival in July 2016 Aldo rejoined with popular violinist Joshua Bell for his Seasons of Cuba concert at Far Niente Winery and that same month he premiered "Emporium", his first concerto for piano and orchestra, at the Tahoe Classic Festival.
In early 2018 Aldo continued his lengthy tour in the US and made his debut with the Florida Orchestra with three amazing concerts on February 23, 24 and 25 in the Florida cities of Tampa, St. Petersburg, and Clearwater, celebrating the 50th anniversary of the symphony and making these his first collaboration with prominent British conductor Michael Francis. A few weeks later Aldo returned to Florida, this time to play the Concert for Piano in G major by Ravel during four concerts with The South Florida Orchestra conducted by Maestra Sebrina María Alfonso.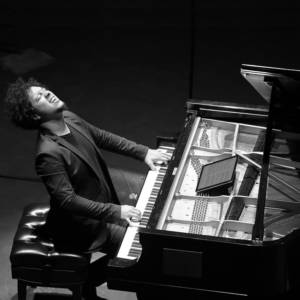 Hispania Nights
$30 single, $50 household
About
Scott Speck conductor
Aldo López-Gavilán piano
He took West Michigan by storm during his fall 2017 WMS debut. The Cuban pianist is back for a Latin-infused program framing his own jazz and world-music influenced concerto.
Piazzolla Tangazzo
López-Gavilán Emporium
Marquez Danzon no.4